When you think of winterizing your home, you probably focus on protecting against the cold and snow – but there are several other ways to prepare for the season. A winter preparedness home checklist can be a handy tool to help you create a plan to winterize your home and keep your property and family safe in cold months ahead. Here are some tips for homeowners that are ready to winterize their homes.  
7-Step Checklist for Winterizing Your Home 
Tip 1: Prepare Your Property
Performing maintenance on the outside of your home is the first step in keeping you and your family safe from the harsh winter weather. Start by having any encroaching trees trimmed, dead trees removed, and outside shrubbery protected.  
You should also think about the rest of the home. Gutters, roofs, and chimneys will collect debris over the seasons (chimneys should be a priority if you plan to burn wood.). These should all be flushed and cleaned appropriately to prevent severe weather damage.  
If a winter storm is heading your way, take the time to pre-salt walkways, driveways, and sidewalks, or have supplies (salt, shovels, etc.) ready for when colder weather comes.   
Tip 2: Check Heating Systems/HVAC
In colder weather, the health of you and your home is reliant upon proper heating and ventilation. It's recommended to have your HVAC/ heating system inspected annually, especially before any extreme weather conditions occur. If your system is older, it may be time to consider replacing it with a newer, more efficient model. 
Bonus Tip: Save money on your power bill during winter months by setting your smart thermostat to a schedule. Read through our blog to learn more ways you can be more energy efficient. 
Tip 3: Seal Cracks/Leaks in Doors/Windows
One of the best ways to keep your home warm and cozy in winter is to properly seal any drafts from windows and doors. Precious (expensive) heat can escape from your home in a variety of different ways: 
Cracks in the Walls

 

Home Foundations

 

Attics/Crawlspaces

 

Compromised Sealants in your Doors/Windows/etc.

 
You can shore minor cracks or gaps by placing weather stripping around openings, using caulks/gels, or installing energy-efficient window treatments like shutters and shades. Taking care of these leaks will not only help you save on utilities but also prevent air leakage, which can lead to indoor air quality issues and even mold growth in some cases. 
Tip 4: Save Your Pipes
Water damage is easily one of the more destructive and headache-inducing events one can experience when owning a home. Unfortunately, 14,000 homeowners experience some form of water damage every day (at an average cost of $11,605 per insurance claim.  
Leaking and burst pipes are common causes of home water damage. Winter can be especially harsh on your pipes, as the colder temperatures can cause water in the pipes to expand. As the water expands, it stresses the pipe causing it to crack.  
To keep your pipes tip-top during the winter, be sure to insulate them (both inside and outside of the house) with foam or heat tape to prevent freezing. You should also always leave a small trickle of water running when you know temperatures will dip below freezing. This will keep water moving through the system and reduce the likelihood of your pipes freezing up/bursting.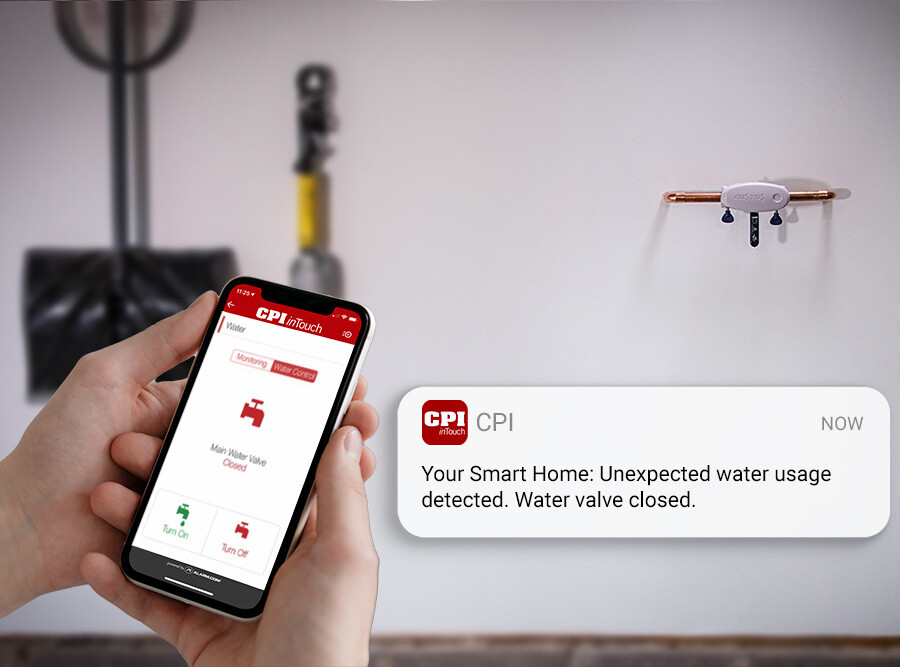 If a pipe bursts in your home, you can mitigate the damage by having CPI water sensors and a CPI smart water shut-off valve. When the water sensor detects a leak the Water Shut-Off Valve will automatically shut the water off to mitigate the damage. Read our blog for more ways to prevent water damage in your home.  
Tip 5: Check Your Roof for Damage
Winter weather can take its toll on your roof, so be sure to check it over thoroughly before the first snowfall arrives. Look for loose shingles or tiles, water stains, and any other signs of wear and tear. Repair any small problems as soon as possible, so they don't turn into bigger issues when the temperatures drop.  
Tip 6: Switch Ceiling Fan Direction
An interesting bit of advice, but valuable, nonetheless. Did you know the direction that your ceiling fan spins can have a direct impact on your homes heating efficiency?  
According to EnergyStar.org, "In the winter, reverse the motor and operate the ceiling fan at low speed in the clockwise direction. This produces a gentle updraft, which forces warm air near the ceiling down into the occupied space." This is a simple way to improve your home's heating efficiency and save on utility costs. 
Tip 7: Check Your Detectors
The possibility of water damage can cause some anxiety, but what about smoke and fire damage? We focus so much on the debilitating bitter weather that we forget about the safety precautions of using multiple types of heating systems. One can heat their home through various means like a gas stove, fireplace, electric area heater, etc., but each of these methods (without the proper use and maintenance) can potentially harm you or your loved ones through gas inhalation. 
An essential first step is to inspect your smoke and carbon monoxide detectors for malfunctioning units. If your safety detectors are coming up short, or they're starting to age out, now may be an ideal time to replace your home fire and smoke detectors with more modern smart technology.  
Whether you are staying indoors or braving the chilly weather, winter can be an incredibly fun and exciting season. Just make sure your home is ready for whatever winter may bring.  
CPI Security is the Southeast's leading source for smart home automation and security. Contact CPI Security today to ensure your home is protected against all types of threats.