Security. That eight-letter word means a lot to us here at CPI Security. Whether it's the security of your family, your home or our community, security is our top priority.
Our commitment to our community's security goes beyond providing innovative solutions for homes and businesses. We care deeply about the communities we serve, and we invest our time and resources to give back and bring positive change.
By that same token, we recognize the security a good-paying job provides​ for you and your loved ones​. That's why CPI strives to​ hire and retain some of the best employees in the industry​, ​​to provide growth opportunities for current employees and to connect jobseekers with businesses in the southeast region. One way we do that is by partnering with local employers and career-development organizations for youth and young adults.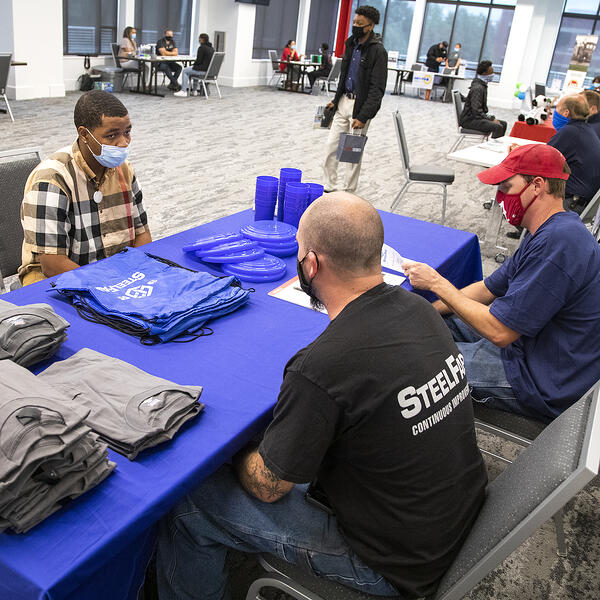 "Fostering connections between job seekers and young adults is one of the best things we can do to help them climb the ladder of opportunity," said CEO and founder Ken Gill.
On Saturday, September 26, CPI was proud to host our Career Development VIP Job Fair with 13 leading area businesses.
"We're really honored to be here with this program," said Thomas Hovis with Warco Construction. "It's been very inspirational for us to see these young men and women put their best foot forward and try to better themselves and try to create a career."
Attendees were made up of graduates of REACH Academy, as well as members of Step Up To Leadership Social Development Program and Promise Youth Development, Inc. Each of these incredible programs focuses on promoting personal and social responsibility through leadership opportunities and career development classes. More than two dozen young adults showed up to meet with local employers, hear more about career opportunities and invest in their futures.
"We saw a lot of potential hires and future talent that'll hopefully start the trainee program we have," said Kendrick Swords with SteelFab. "We got names and numbers of people that we're going to follow up with."
We were thrilled that many attendees had the chance to participate in on the spot interviews. And we're even more excited to share that some have already received job offers.
"I got three job offers today and it just made me feel so happy and excited. I just can't believe it," said Anthony, a job fair attendee.
We couldn't have done this without our outstanding partners. We want to extend a special thank you to all of the companies that participated in our career development VIP job fair: Chick-fil-A; Choate Construction Company; Dry-Pro; GoSource; LKN Mechanical; Luxor Staffing; Old North State Masonry; Powerworks; SteelFab; Step Up To Leadership Social Development Program; Tyson Foods; U.S. Army; and Warco Construction.
From partnering with local service organizations to protecting your home, taking care of our neighbors is what we do. To learn more about our efforts, click here.