A motion sensor or motion detector is a key part of a smart home security system, as it can detect movement in your home at all times, but it's especially important when your home is supposed to be empty. In other words, a motion sensor connected to a home security system will notify you when someone uninvited is in your home.  
Wondering what a motion sensor is, how motion sensors work, and how they are a critical piece of an effective whole home security system? Read on to find out everything you need to know about using motion detectors to keep your home safe while you're away. Here are just some of the topics we cover below: 
How Motion Sensors Work

 

Types of Motion Sensors

 

Optimal Placement of Motion Sensors

 

How to Install Motion Sensors

 

How Motion Sensors Work Within a Security System

 
How Motion Sensors Work
To use your motion sensor, all you need to do is arm your system when you leave home to let it know the house is empty. Then, if a sensor detects motion, it will trigger an alarm and send an alert to your CPI inTouch™ app, which then alerts both you and our monitoring center. 
Types of Motion Sensors
Motion sensors work using one or two of several different types of motion sensing technology.  Some, called passive infrared (PIR) sensors, look for fluctuations in infrared energy, something humans, animals, and other objects release as heat. Other technologies, like dual or tri-tech, are multi-detection devices that may use PIR sensors, microwave sensors, or a combination of both. Microwave sensors send out continuous microwave signals that bounce off objects in the room. The sensor monitors the pattern of the signals and if there is a change in pattern, the sensor detects the movement. Others, called active ultrasonic sensors, use ultrasonic sound waves that bounce off objects nearby to detect movement. 
CPI Security uses dual-tech motion sensors that are powered with internal PIR and microwave sensors. A dual-tech motion sensor will only activate if both the PIR sensor and the microwave sensor trigger. Because dual-tech motion sensors have additional layers of detection elements, they often lead to fewer false alarms. 
Less commonly used motion sensor technologies include tomographic motion sensors, which use nodes linked together to form a mesh network and detect motion when a link between two nodes is broken; vibration motion sensors that detect small vibrations caused by movement such as footsteps; area reflective sensors which emit infrared rays and use the reflection of those rays to detect motion; and microwave motion sensors which work similarly to active ultrasonic sensors but use microwaves instead of ultrasonic waves, which use sound waves with a frequency above the upper limit of human hearing. Some sensors use two different types of sensing technology to increase the accuracy of detection. 
There are also specialized motion sensors that detect certain types of motion or trigger a different action. Contact sensors use a magnet to detect movement of a door or window. Pet-immune motion sensors are typically passive infrared sensors and are able to ignore animals up to a certain weight. Video motion sensors start recording when they sense movement. CPI Security's video cameras use AI-powered technology to detect activity instead of motion sensors, so you're only alerted to activity that's important and not every movement. 
Where to Place Motion Sensors
Most motion sensors are wireless, meaning they can be placed just about anywhere. However, knowing where to place them ensures they are installed properly to give you complete coverage and avoid false alarms. 
Generally, different types of motion sensors and systems have different placement recommendations included in the installation instructions. However, there are a few widely applicable tips to keep in mind as you consider where to install motion sensors. 
For example, PIR sensors should usually be kept 10-15 feet away from sources of heat such as radiators, vents or even sunny windows. A sudden change in heat can trigger these sensors, creating a false alarm.  
Additionally, motion sensors should be installed in high traffic areas where an intruder would need to pass through regardless of where in the home they are going, such as entryways, hallways and stairwells. Similarly, consider where intruders are most likely to enter, including exterior doors and garages, and place sensors near those areas. Typically, a great spot for a motion sensor is in the corner of a room, high on a wall, and opposite the main entrance to the room.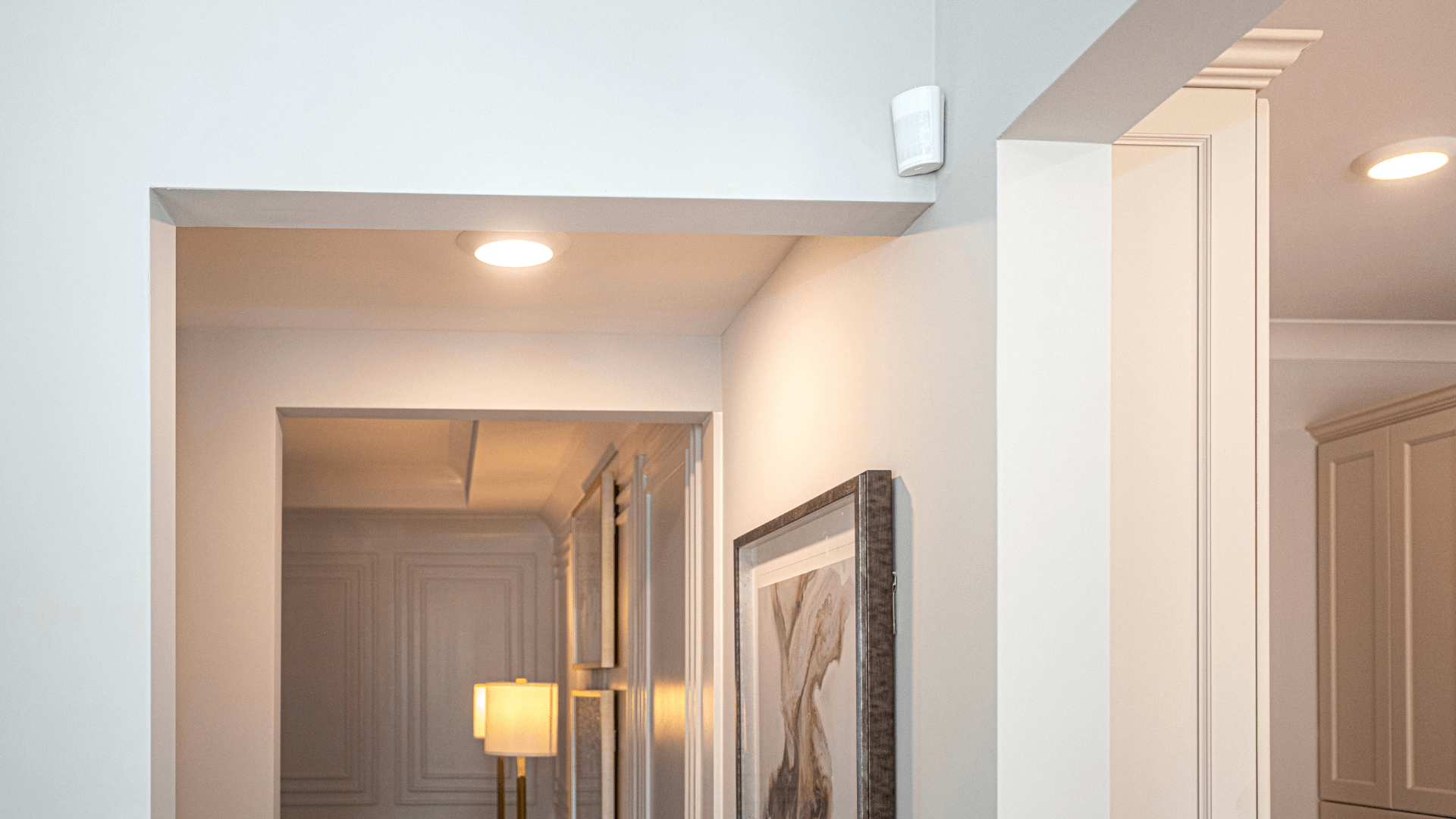 How to Install a Motion Sensor
At CPI Security, we install your entire home security system, including motion sensors, so you don't have to deal with the stress of installation. Our home security professionals provide end-to-end service, from motion sensor installation to a walkthrough of your whole security system, so that you can feel confident in your system's performance without any of the stress of a DIY solution. We'll make sure each sensor is strategically positioned in just the right spot for maximum protection and movement monitoring. 
Setting up your motion sensors is simple for our security installation team. We'll identify the best locations for your sensors, then mount your sensors in place. Once a sensor is on the wall, we'll connect it to your CPI SmartHub control panel, then adjust your motion detection settings to make sure it's set up the way you need. That's it! All you'll have to do is occasionally dust or clean the screen of your motion sensor to keep it working effectively.  
Using Motion Sensors With Your Whole Home Security System
Motion sensors are a valuable part of any home security system. They work to guard your home when you're away by detecting intruders and notifying you and the CPI monitoring team immediately. At CPI Security, we use a variety of motion sensors and other security sensors to: 
Monitor interior and exterior doors and windows – even on detached structures – and detect when one is opened

 

Detect unexpected motion inside the house when no one is home

 

Trigger an alarm if glass breaks

 

Alert you of a water leak

 
In other words, motion sensors are an easy, simple way to detect motion in your home, and they have a wide range of applications when it comes to keeping your home safe and secure. To learn more about protecting your home with motion sensors, contact our home security experts today.