When you think about home security systems, what pops into your head? Is it the safety, security, and peace of mind you get from state-of-the-art intrusion and theft prevention? Or do you imagine a futuristic interconnected house that thwarts bad guys while serving as your personal assistant?  
A smart home security system like CPI Security's Smart Home is designed to not only give you the peace of mind you deserve, but to make it a breeze to manage your household and daily routines. It can even help you save money. Read on for everything you need to know to get started with a smart home security system. 
What Makes a H
ome Security System
"Smart"?
CPI's smart home security systems use dual-path communications, including both cellular-based and internet-based communications, to connect. The panel, cameras, locks, and other devices communicate with each other using wireless protocols.  
They also communicate with you, the end user. With smart home alarm systems, you can receive notifications and alerts, view live video feeds, and manage your home remotely – right from your smartphone. 
What's Included in a Connected S
mart Home Security System
?
The best smart home security systems typically consist of (1) a core set of security and safety functions, (2) a wide range of additional products that help automate your home, and (3) a combination of technology advances and services, like CPI Security's Real Time ResponseSM, designed to help you live life secured. 
Core Security and Safety Components
These are the main elements of a smart home security system. Most basic smart home security packages include the following items: 
A

smart hub or panel

that centralizes your home security system's products and functions

 
CPI Security's SmartHub panel works with all your CPI smart home security products to create a uniquely intelligent and safe home under your control. It not only boasts a sleek design to fit seamlessly into your home's aesthetic, but it also plays a critical role during alarms. It features two-way talk functionality so CPI's Central Station operators can communicate with those in your home during an alarm. It also includes an 8MP camera to record who is disarming the system or to serve as an additional video camera during alarm events.  
Automation Components
In addition to the primary pieces that make up a basic smart home security system, connected products like these allow you to automate many of the daily functions of your home, while providing real-time insights and protections: 
Smart

thermostats

– keep your home's temperature optimized for comfort when you're there and efficiency when you're not

 
Smart

garage door

controls – many households use the garage as their primary access point, for both security and convenience

 

Smart

lights

– light the way when it's needed, save energy when it's not, and change the mood any time

 

Smart

plugs

– control small appliances remotely, or set them to turn on and off automatically 

 

Smart

water shutoff valves

– leak detection and notification that can prevent major floods and damage

 
Technology Advances
Today's home security systems are far more than just their hardware and connectivity. The best smart home security system providers also deliver software and AI-driven capabilities that take security and convenience to the next level.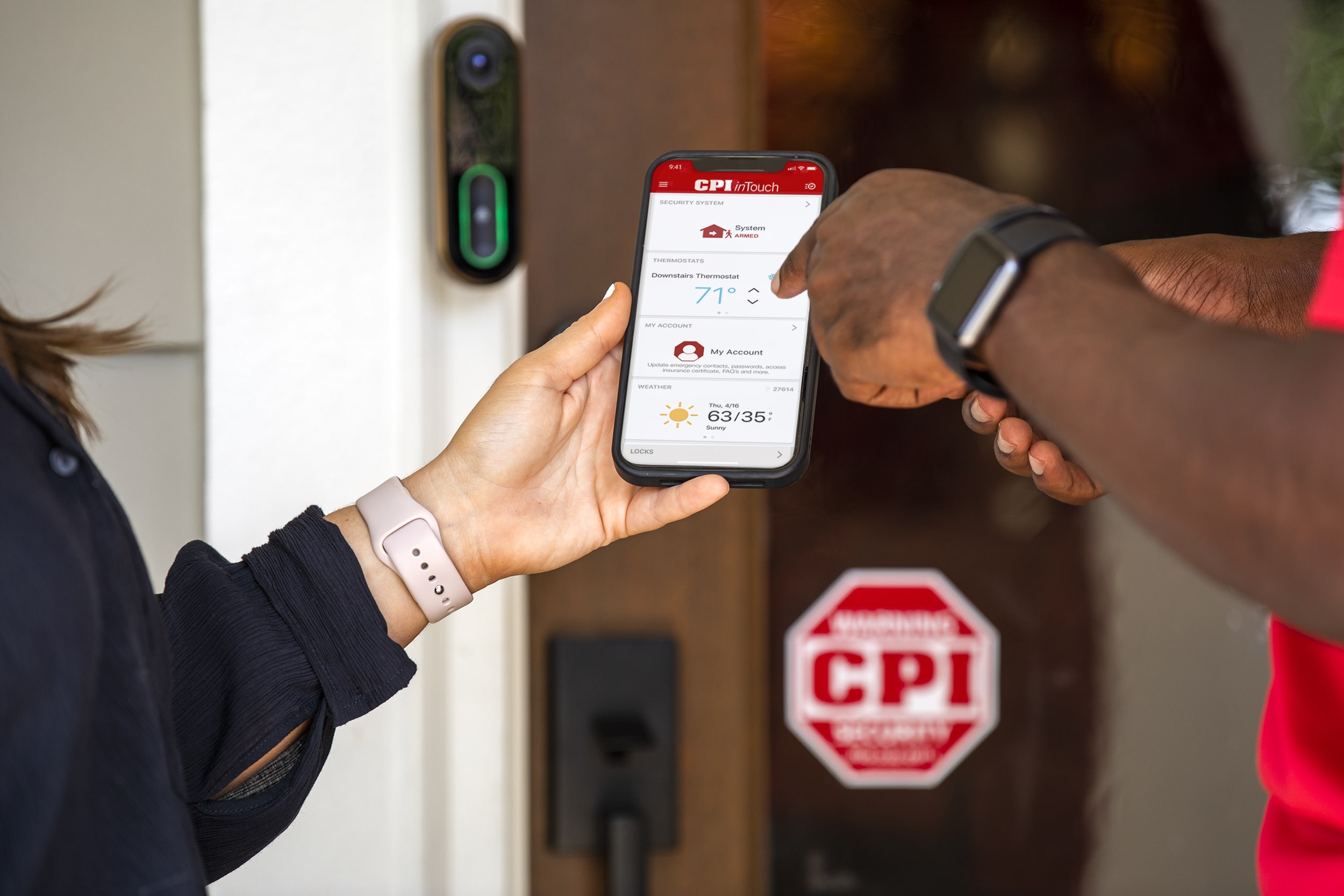 Single app control

– you can manage your entire system in real time from a smartphone app, like CPI's inTouch™ app.

 
Voice commands

– use Siri or Alexa to lock the doors, view your camera feeds, create pre-set home environments, and more

 

Perimeter alert capabilities

– specially equipped cameras that protect the edges of your property and deliver strong warnings to would-be intruders

 

AI-driven video technology

– smart cameras with features like CPI's IVAN

℠

can distinguish between people, animals, and vehicles on your property

 
What Else Should I Look for When Evaluating S
mart Home Security System
s?
 As you do your research on home security systems and narrow down your choices, these are some other important things to consider: 
Complete professional installation versus DIY

– while you can find

DIY home security systems with cameras

,

professional installation

means less hassle and more certainty. You won't have to worry about whether your household is properly protected, because you'll know the job was done by experts. 

 

 

24/7 professional monitoring

– you might see some

home security systems

advertised as "self-monitoring." But unless you plan to stay glued to your app's video feeds, it's not a practical way to keep tabs. With a

smart home security system

like CPI Security, you get

award-winning, round-the-clock monitoring

for intrusion, fire and CO, and medical monitoring alarms. 

You also get the benefit of verified alarms and services like Real Time Response

℠,

which can make all the difference when every second counts.

 
Compatible, secure equipment you can add as you go

– while some people go all in on a complete smart home security system with every imaginable connected device, others start with the basics and add products over time. Providers like CPI offer industry-leading technology, designed for compatibility and security. And they're always researching and developing new offerings to enhance your experience.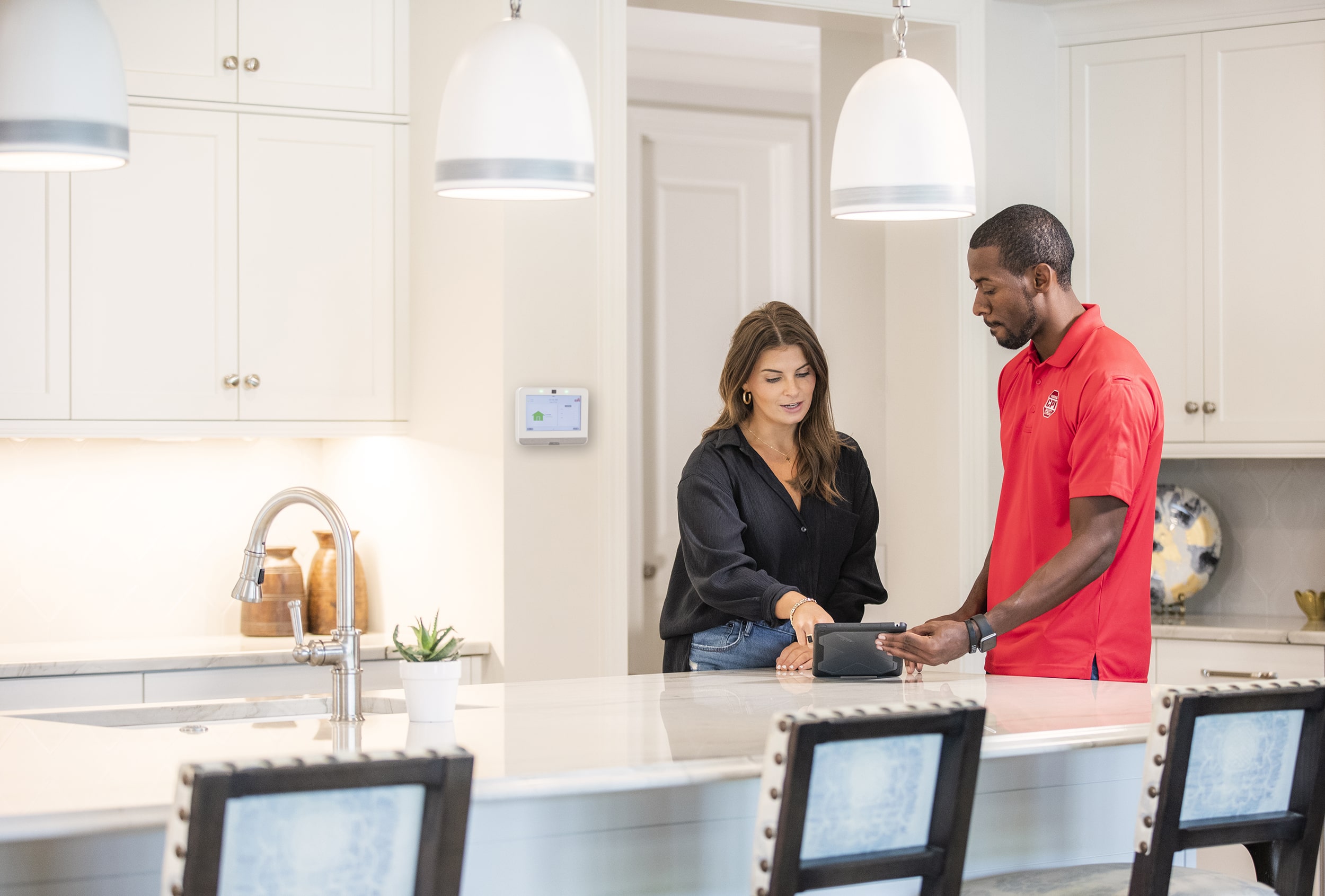 How Much Do S
mart Home Security System
s Cost?
 You already know how to price shop and compare dollars-to-dollars. But by skimping on costs, you could end up paying a much higher price.  
 Instead, ask yourself this: How valuable is my family? What does my home mean to me? Is it worth it to protect our lives, safety, home, pets, belongings, and more? The right smart home security system can save in immeasurable ways – not just your money, but your time, energy, and peace of mind. 
 There are other factors that can offset the actual cost of a smart home security system. For example, many insurance providers will offer a discount if you have a professionally monitored home security system. Additionally, smart thermostats can offer considerable energy savings. And of course, there's the money you save by protecting your household against theft, fires, and floods.  
 It's good to be aware of your budget when shopping for smart home security systems. Look for preconfigured packages that offer a few different options. It's the best way to get the system you want and need, while staying on budget and allowing for expansion later on.  
Ready to get started? Visit us today to learn more about connected smart home security systems.