The freedom of reliable internet throughout our homes is something we've all come to enjoy and, quite frankly, depend on.
As the structure of our day-to-day becomes more intertwined with technology and connectedness, the seamless nature of WiFi is an essential and expected element of the home.
Having dependable WiFi makes the world go round…that is, until it's not so dependable.
The irritation that comes with dropped signals and dead zones, paired with the increasing use of technology in the home and weakened signals, creates a level of frustration that can at times feel unmatched.
If you're having connectivity or range issues with a traditional router, it's because the signals sent out by traditional routers are limited. Fortunately, this frustration can be avoided with products that evenly spread your WiFi signal throughout your home, like Mesh Networks and WiFi Extenders.
Below, we'll outline how WiFi extenders and Mesh Networks (like the CPI Mesh Network) work, their differences, and more.
What is a Mesh Network?
A Mesh Network is a network of devices that improve your WiFi by evenly spreading your internet connection throughout your home. Mesh Networks, like the CPI Mesh Network, communicate on one singular network and create a seamless connectivity experience. This workflow differs from WiFi Extenders, which create multiple networks throughout your home.
Mesh Networks also offer more security with parental controls and anti-virus protection, which we'll get to in a bit.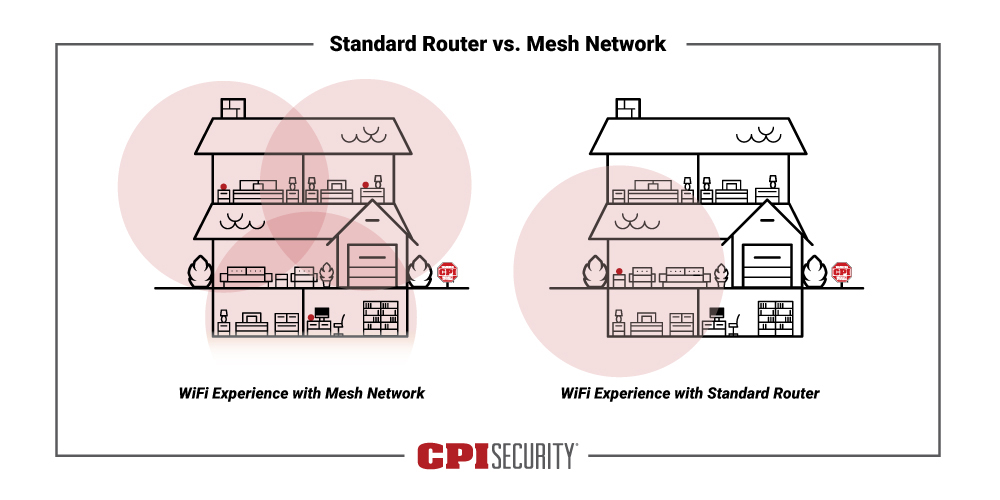 See the difference of a Mesh Network compared to a standard router
How Does a Mesh Network Work?
In a Mesh Network, strategically placed routers link together so you can enjoy more reliable WiFi from anywhere in your home. A traditional Mesh Network is usually made up of three parts – the router and two satellite modules, also referred to as nodes.
Mesh Router
The main mesh router connects to your modem. This then connects to the mesh network nodes and creates one expansive network in your home.
Mesh Network Nodes
Depending on your needs, you may have two or more nodes spread out throughout your home. The nodes communicate back to the router on one singular network.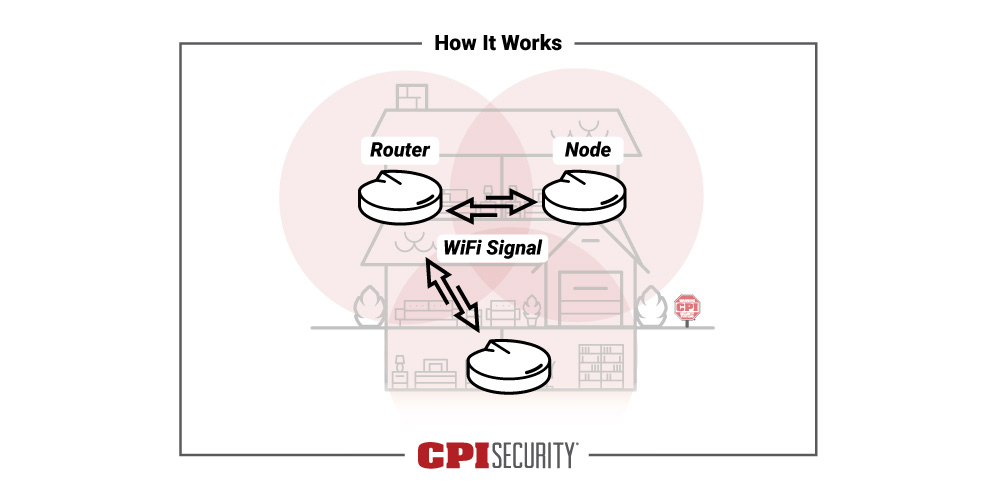 Here's an example of how the mesh router and mesh satellite modules communicate to create an expanded WiFi signal throughout your home.
Benefits of Mesh Networks
The benefits of a Mesh Network don't stop with a better WiFi experience. Adding a Mesh Network to your home improves safety and security, including:
Parental Controls: From smartphones to gaming consoles, control your kid's screen time and internet access by setting time limits on WiFi usage and blocking specific sites. You can do this for single devices or groups of devices. Kids having friends over? You can even receive notifications when new devices log onto the WiFi.
Anti-Virus & Cybersecurity: The Mesh Network works to block malicious sites and identify and block potential threats, automatically fixing vulnerabilities in your network.
Whole-Home Coverage: Just one three-pack of Mesh Network nodes will cover up to a 5500 square-foot home with WiFi throughputs on 2.4GHz and 5.0 GHz.
Improved Connectivity: With a Mesh Network, you'll be able to experience better WiFi throughout your entire home, including fewer technical glitches as a result of poor WiFi.
What is a WiFi Extender?
A WiFi extender is a product that is placed in an area of your home between the router and a poor Wi-Fi area of the home. The extender then connects with your router and extends your WiFi signal in the home.
A setback to WiFi extenders is that they may need to be configured to make a second network, and devices would have to connect to each of the networks as the device needs them (so, you might have to connect your mobile device to different networks depending on where you are in your house). However, depending on your needs, a WiFi extender may still be a decent option for your home and family.
WiFi Repeater vs Extender vs Booster
As you shop around for a solution to alleviate your WiFi issues, you may be asking yourself – what's the difference between WiFi boosters, WiFi repeaters, and WiFi extenders?
Short answer – WiFi boosters, repeaters, and extenders are essentially the same thing – devices to improve WiFi coverage.
There isn't a clearly defined difference between devices that manufacturers describe as "repeaters" and devices described as "extenders," though they may have slight operational differences.
WiFi Extender vs Mesh Network
When determining which product would best fit your needs, ask yourself:
Does my family stream video or music?
Do they complain about slow internet speeds or dead spots?
Would I like to have more control over my family's internet usage and screen time?
Will I be working from home, or are my kids participating in remote learning?
Do I have connectivity issues when it comes to other technologies in my home, like security cameras?
If you answered yes to any of these questions, enhancing your home's WiFi is a must. When considering whether a Mesh Network or WiFi extender is best for you, it's important to evaluate the differences:
A Mesh Network creates one seamless signal in your home, whereas a WiFi extender creates separate networks for each extender.
A Mesh Network doesn't negatively impact your home's bandwidth.
More devices can connect to a Mesh Network than a network of WiFi extenders.
If you have a WiFi extender, you'll likely have to connect to different networks in your home, whereas with the Mesh Network, you'll have a singular network.
Improve Your WiFi, Improve Your Life
While buffering times, weak signals, and dead zones can be frustrating, improving your WiFi with at-home products, like the CPI Mesh Network, can enhance the overall internet experience in your home for everyone.
To learn more about the CPI Mesh Network and other smart home products, visit us today.