What if your thermostat could keep your home at the perfect temperature year-round, day or night? What if it could help you meet your energy efficiency goals and automatically adjust based on your routine? Sound ideal? Smart home benefits like these, and more, are possible with Smart Thermostats. While this sounds great, you may still be wondering – "How do smart thermostats work?"
Below, we're breaking down the nuances of how a variety of thermostats work, their benefits, and installation tips so you can determine the best thermostat for your home and family.
How Does a Thermostat Work?
First, let's walk through how thermostats work. Most standard mechanical thermostats have components that detect temperature increases and decreases in the area. When the room temperature reaches above or below the customer's set thresholds, the thermostat energizes the proper heating and cooling systems.
Example: If the thermostat is set to heat and the temperature falls below the customer's set threshold, the thermostat energizes the heating components of the HVAC. When the desired temperature is reached, the thermostat de-energizes the heating components to turn off.
What is a Smart Thermostat?
A smart thermostat is a thermostat that connects to the internet through different wireless protocols such as Wi-Fi, Z-Wave, or Bluetooth and often requires a controller or gateway for the thermostat to get onto the internet. These can be combined with a smart home system and controlled through a mobile app.
Depending on the thermostat you choose, you can control the temperature in your home remotely through the app, set rules, and home automations that regulate your home's temperature on a specific schedule or when your home reaches a certain temperature.
How Do Smart Thermostats Work?
A smart thermostat replaces your existing device and connects directly to the HVAC system. The thermostat can be controlled locally on the device itself or by using a mobile app.
Your brand of smart thermostat will determine the level of control you have on the thermostat's touchscreen, but regardless, you'll be able to manage the smart thermostat from your smartphone, whether you're home or away.
How smart thermostats work also depends on the brand you install. More basic models are able to be controlled through the app, making life easier. However, more high-end models, like the CPI Smart Thermostat, take smart to the next level with automations that can be programmed or learned. They can also regulate your home's temperature based on when members of your family come and go, as well as help you keep track of your energy efficiency goals.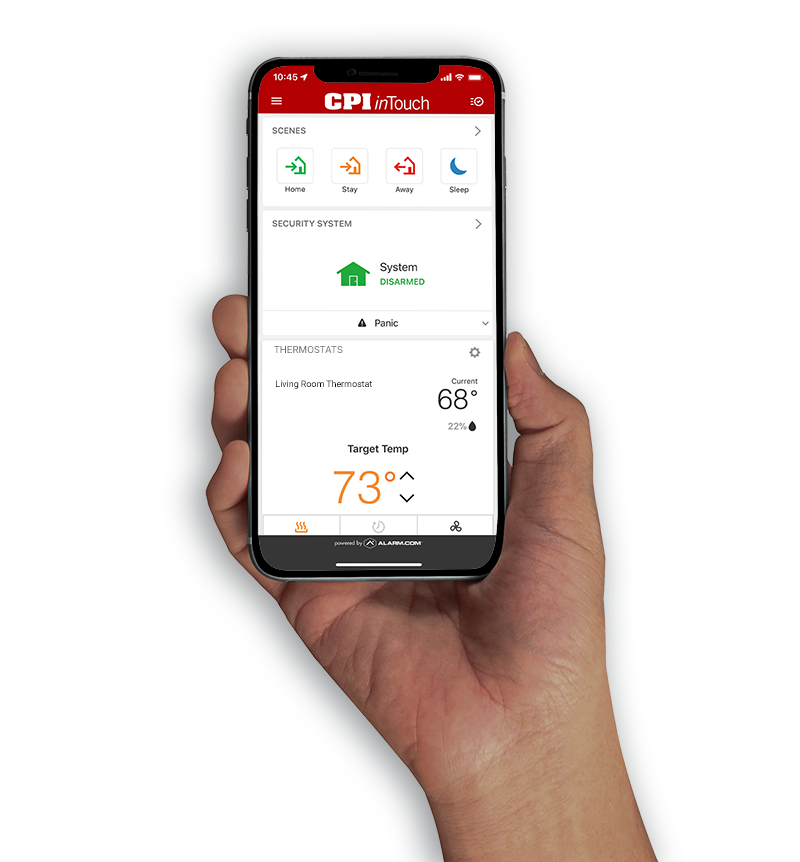 Benefits of a Smart Thermostat
There are a range of benefits to adding a smart thermostat to your home. However, because the features and functionalities of smart thermostats vary, we're going to outline the benefits of a smart thermostat using the CPI Smart Thermostat as an example:
CPI Smart Thermostats make it easy to remotely access your home's temperature, even when you're away.
Monitor your usage and meet your energy efficiency goals by controlling the temperature, setting custom schedules, receiving critical temperature alerts, and more.
Control your home's temperature from your smartphone and create location-based automations that adjust the temperature as you approach and leave your home.
Integrates directly with your CPI smart security system so you control everything from a single app.
Smart Thermostat Installation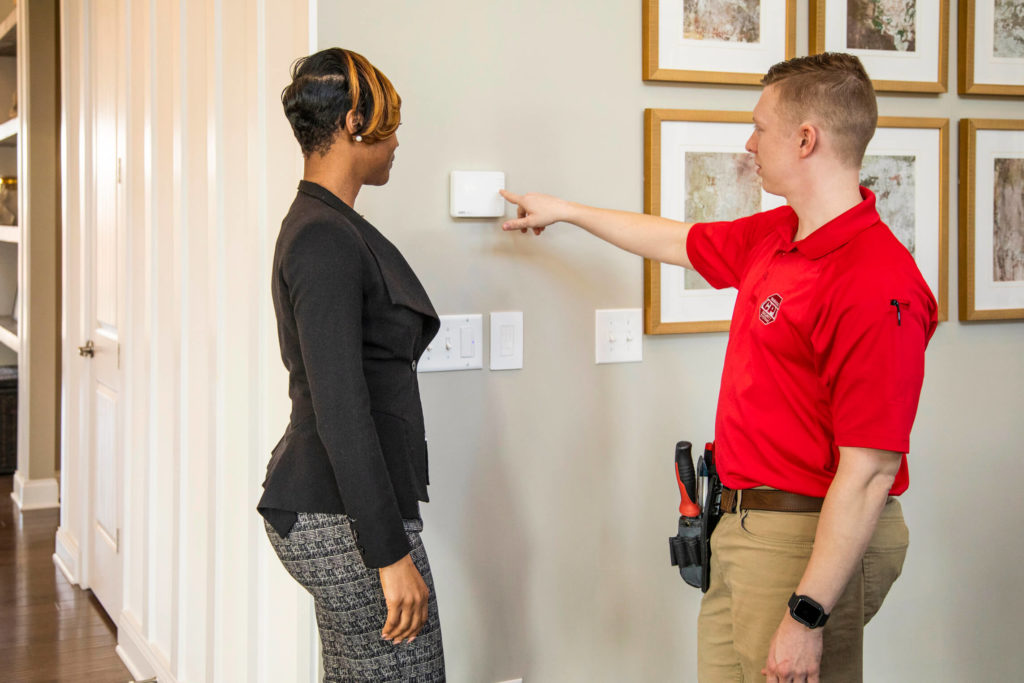 Most will come with installation guides, however, if you'd like to ensure that your new thermostat is installed correctly (and integrated with your smart security if you have one), call an expert who can install a smart thermostat. This will ensure that your smart thermostat is installed in the best place for your home, and properly connected to your complete smart security system. If your technician is from CPI, they'll even go the extra mile to teach you how to use your thermostat, set up your smart home automations, and more.
Smart Thermostat Cost
On average, a smart thermostat can cost anywhere from roughly $150 – $300, with the final cost determined by the quality and features of the product. With so many options at a similar price point, how do you choose the right one for you?
Look for a smart thermostat that goes above and beyond to make your life easier. Here's what we mean by that – some smart thermostats work with your security system, so that instead of fumbling around from app to app, you're able to control everything from one universal app. Having a singular source of control means you can easily set up automations to adjust temperature for actions like when someone gets home, when it's time to wake up or go to bed, and more. It's also important to consider the cost of installing. When considering factors like those, the benefits are truly priceless.
Smart Thermostat = Smarter Home
Making your home the smartest and safest on the block doesn't end with a smart thermostat, it's actually just the beginning. If you'd like additional information about smart home products that work with both a smart thermostat and your security system, learn more.